Bell Museum Wedding Photography
I was so excited to work with Rachel + Jimbo for their big day. Their plans included both the Bell Museum as well as Can Can Wonderland – two of my favorites! They both loved and were involved in the earth sciences, which made the Bell Museum significant to them. They also loved games, so Can Can Wonderland was another natural fit. So much fun!
They prepared for their big day at a nearby hotel. Once ready, we headed back to the Bell Museum for their first look and couple/group portraits. It was fun running around the Bell Museum for fun photos with the wooly mammoth, polar bear and solar system exhibits! The day was beautiful so we also opted for outdoor portraits with their wedding party and families.
Rachel + Jimbo's wedding ceremony was in the Bell Museum Planetarium – they had galaxy photos screened overhead while they were taking their vows. It was so gorgeous! Once their ceremony and receiving line were over, we all headed over to Can Can Wonderland for a fun reception evening!
Can Can Wonderland Wedding Reception Photography
At Can Can Wonderland, guests played tons of games and mini-golf while enjoying an amazing dinner. After toasts and speeches, Rachel + Jimbo were excited to play their first rounds of games as a married couple. They enjoyed skeeball as well as the phenomenal artist-designed mini golf. So much fun was had by all!
Thank You!
Rachel + Jimbo, thank you so much for working with me for your wedding photography! I had so much fun on your big day, and I wish you a lifetime of happiness!
If you are considering a Bell Museum and/or Can Can Wonderland wedding, contact me soon!
BONUS: Be sure to check out some other museum weddings I photographed too, including a Mill City Museum wedding and a Minnesota History Center wedding.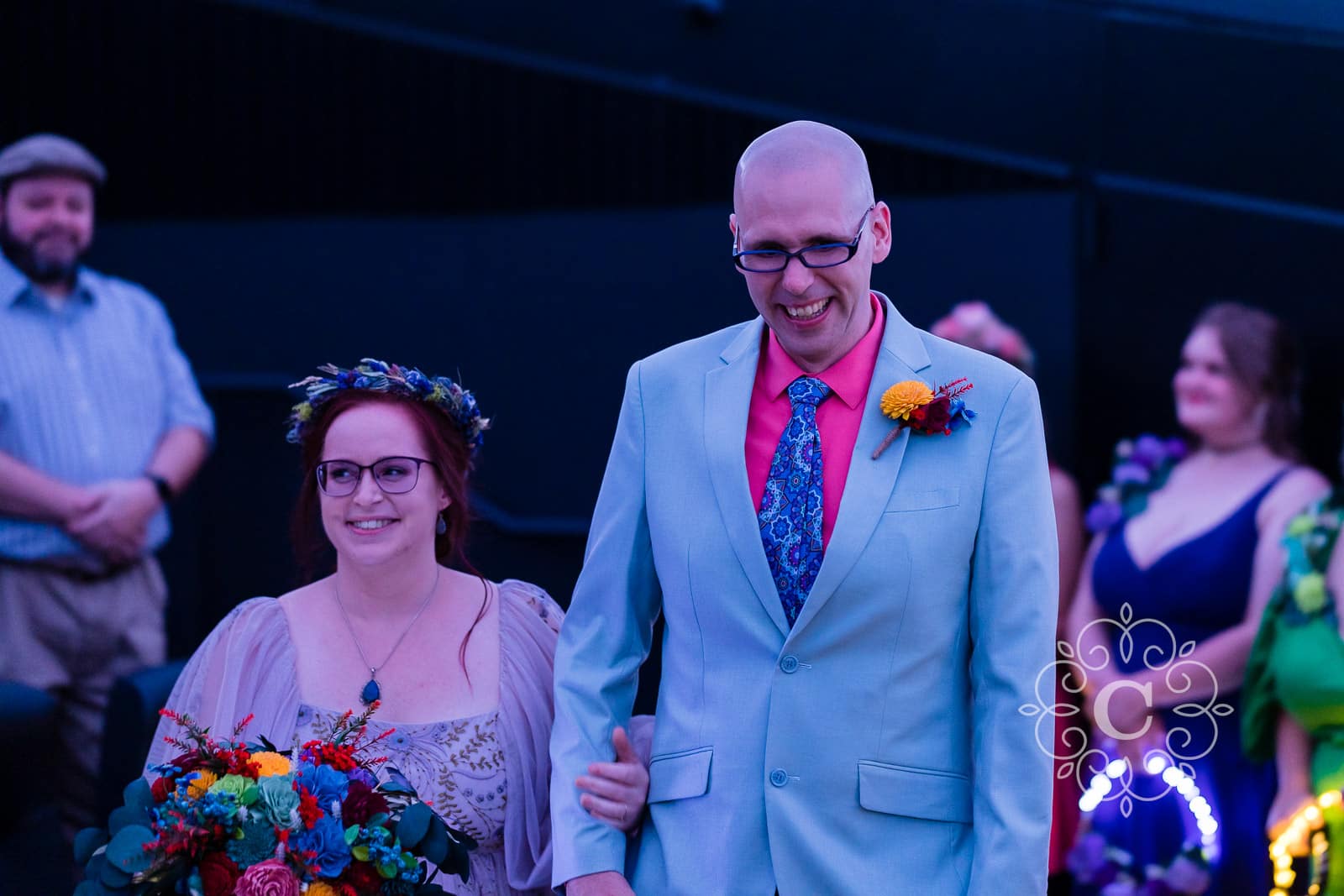 VENDORS
Wedding Venue: The Bell Museum
Reception Venue: Can Can Wonderland
Wedding Coordinator: Revel and Flourish / Alexandra Reveland
Hair/Makeup: Luminous Beauty
Wedding Rings: Lilian Ginebra + Manly Bands
Florist: Northern Sola Luv Flowers + Paula Jean's Gardens
Officiant: Heartstrings Ceremonies / Barbara Lennon
Catering: Can Can Wonderland