Bohemian Flats Wedding Photography
I met Dustin + Nicole for the first time last summer at an Uptown Minneapolis coffee shop. They had just begun planning out their wedding day, and found me through some mutual friends. And just like our mutual friends, Dustin + Nicole were warm, cheerful and easy-to-get-to-know. I suppose the mutual friendships made it feel like we already knew each other? We talked about plans for their big day, photography ideas, and life in general. Later in the winter, we spent time at the Como Park Conservatory for their engagement photography.
Gold Medal Park Wedding Photos
We began their wedding day at the Minneapolis Marriott hotel for prep time and photos with a few close friends and siblings. We then traveled over to Gold Medal Park, right next to the Guthrie Theater and the riverfront, for Dustin + Nicole's first look photos. I particularly love this portion of the day. Each couple's emotions flow as the magnitude of the event truly sinks in. Dustin + Nicole were so cute together! From there we had plenty of time to wander around Gold Medal Park and photograph them together. They shared a few quiet moments before the whirlwind of their day was about to begin.
Mississippi Riverboat Cruise Wedding Reception
The wedding ceremony took place under the gazebo of Bohemian Flats Park, right along the riverfront. Afterward, we completed their family and wedding party photos. After all final portraits were finished, we boarded the Paradise Lady for a reception cruise on the Mississippi River. We were fortunate enough to be on the last boat they allowed through the lock right below downtown Minneapolis. Afterward they closed it forever to prevent the spread of Asian carp! It was a perfect night, and we were treated to a beautiful sunset while the band played and people partied away.
Thank You!
Dustin + Nicole, I am so happy for you both and wish you endless happiness as you join your lives together. Thank you so much for including me as your wedding photographer for your big day!
Planning a Bohemian Flats or Gold Medal Park wedding? Contact me soon to discuss how we could work together!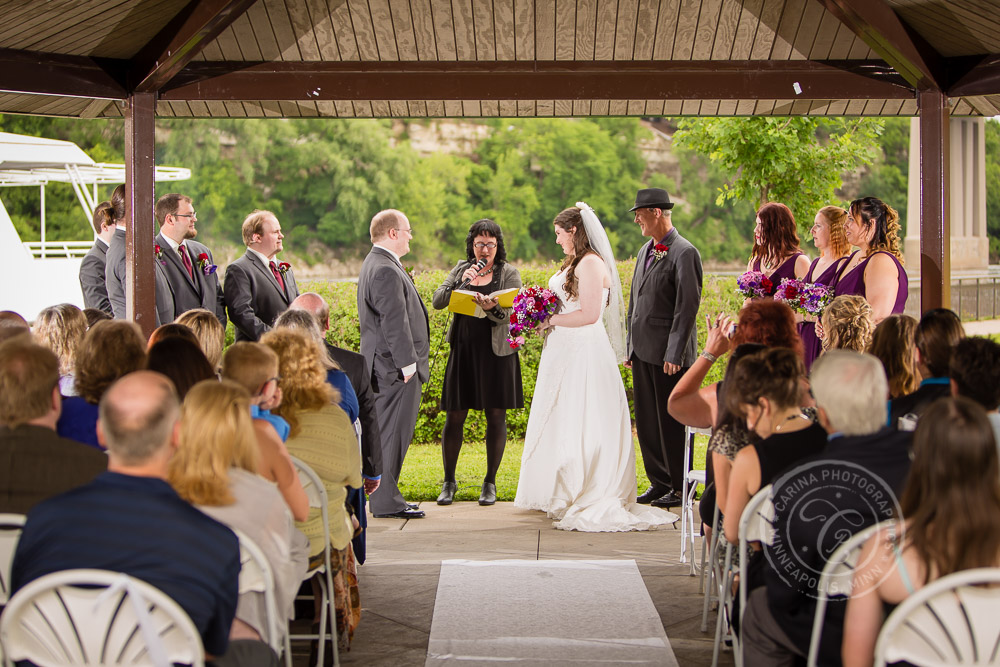 VENDORS
Wedding Venue: Bohemian Flats Park, Paradise Lady
Wedding and Bridesmaids Dresses: The Wedding Shoppe
Bridal Accessories: Bel Aire Bridal
Bridal Shoes: Dessy
Hair/Makeup: Blush Beauty Room
Groom/Groomsmen Attire: Men's Wearhouse
Florist: Richfield Flowers and Events
Caterer: Deli Double Catering
Cake: Queen of Cakes
Band: The White Keys