Stone Arch Bridge Engagement Session
Alyssa + Dave are natives of the Twin Cities. They met at college in southern Minnesota, and lived down there for several years. They were engaged last year and then moved back to the Twin Cities. Once we started working together, they decided to try an engagement photo session. They weren't too sure about their ideal location. I was happy to help them with ideas. They let me know that they loved nature and interesting architecture. We all agreed Father Hennepin Bluff Park engagement photography was ideal for them. The park is a tranquil oasis hidden in the urban heart of Minneapolis. What more could they ask for in their prewedding photography?
Minneapolis Engagement Photo Location
During the week, the forecast threatened rain. Thankfully the weather during their engagement session was warm, sunny and clear! We wandered through the greenery and vegetation of Father Hennepin Bluff Park. The riverfront below the Stone Arch Bridge was particularly amazing. We also lingered on the adorable wooden bridges scattered throughout the park. Alyssa + Dave braved the early-season mosquitoes and were naturals in front of the camera!
We eventually worked our way closer to the Stone Arch Bridge. The vintage stonework of the area gave us stunning backdrops. We used a mix of vintage buildings, bridges and stonework among the lush greenery of Father Hennepin Bluffs Park. Everything looked so beautiful! And Alyssa + Dave were so happy to be together.
Thank You!
Alyssa + Dave, thank you so much for choosing to work with me as your Minneapolis engagement photographer. I loved your prewedding photography, and I am so excited for your wedding day!
Take a look at more of my Stone Arch Bridge and Father Hennepin Bluff Park engagement sessions too!
Courtney + Blake
Chantel + Quinn
Lindsey + Bernie
Stephanie + Travis
Kim + Lucas
Are you considering a Stone Arch Bridge or Father Hennepin Bluff Park engagement session? Contact me soon to find out if I'd be a great fit for your engagement photos!
Update: Take a look at Alyssa + Dave's beautiful Minneapolis wedding photography from The Graduate Hotel, Gold Medal Park and Lutheran Church of the Redeemer!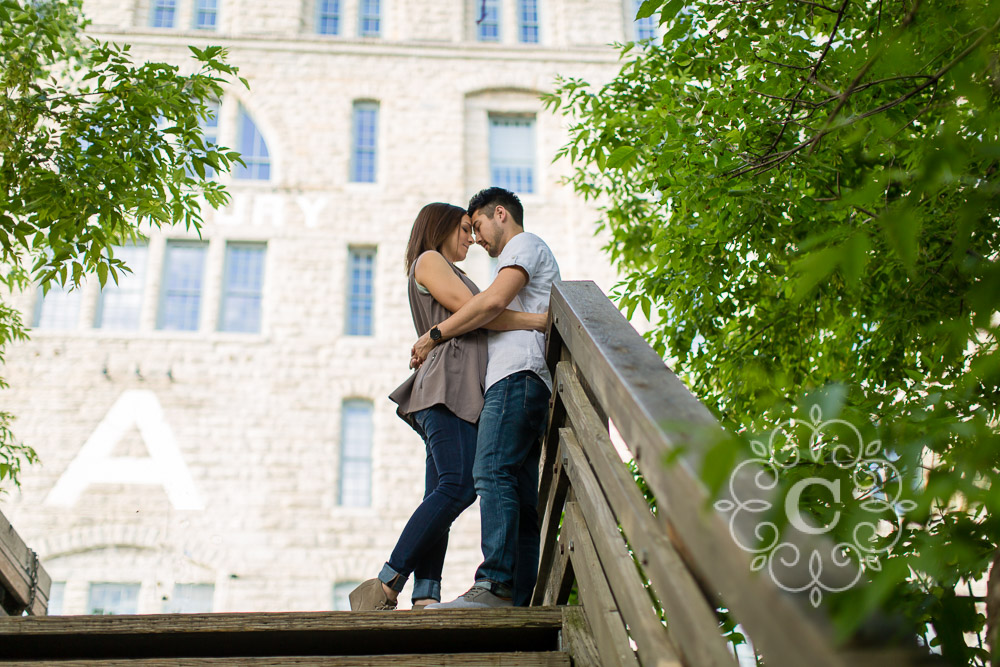 Take a look at their highlight video too: