Indian Wedding Day
Vishana + Brian were planning for a spectacular Indian wedding celebration as they begin their new lives together. We began their day at Vishnu Mandir, their family temple, for their wedding ceremony. They both prepared beforehand, then were driven over by family members. The events begin right in the parking lot with music and welcoming Brian and his family into the temple by Vishana's family.
We then headed indoors for some of Brian's ceremonies. Then Vishana emerged with her family for the women's ceremonies. When she was finished, she left to change, and then Brian came into the temple for his ceremonies.
Vishnu Mandir Hindu Wedding
Once Brian was finished, Vishana came out in her traditional red dress. They both completed their ceremonies together and with their families. Afterward, they were serenaded with a choreographed dance from their cousins. And then they had their beautiful couch and backdrop to have photos with family and friends. Once those were complete, they quickly ate their dinners before heading out to their cars and off to Brian's home to bring Vishana in and end the day's festivities.
Thank You!
Vishana + Brian, thank you so much for including me as your Indian wedding photographer for your beautiful event. I am so happy for you both as you begin your new lives together!
BONUS: Be sure to take a look at Vishana + Brian's beautiful Profile Event Center wedding reception photos too!
BONUS 2: Also take a look at Vishana + Brian's beautiful MN Landscape Arboretum engagement photos too!
BONUS 3: Check out other Indian weddings I have photographed, including Rachel + Nishant's Hindu Temple of Minnesota wedding and Madina + Omkar's home Indian wedding. Also take a peek at the Mohan family's Upanayanam ceremony at Hindu Temple of MN too!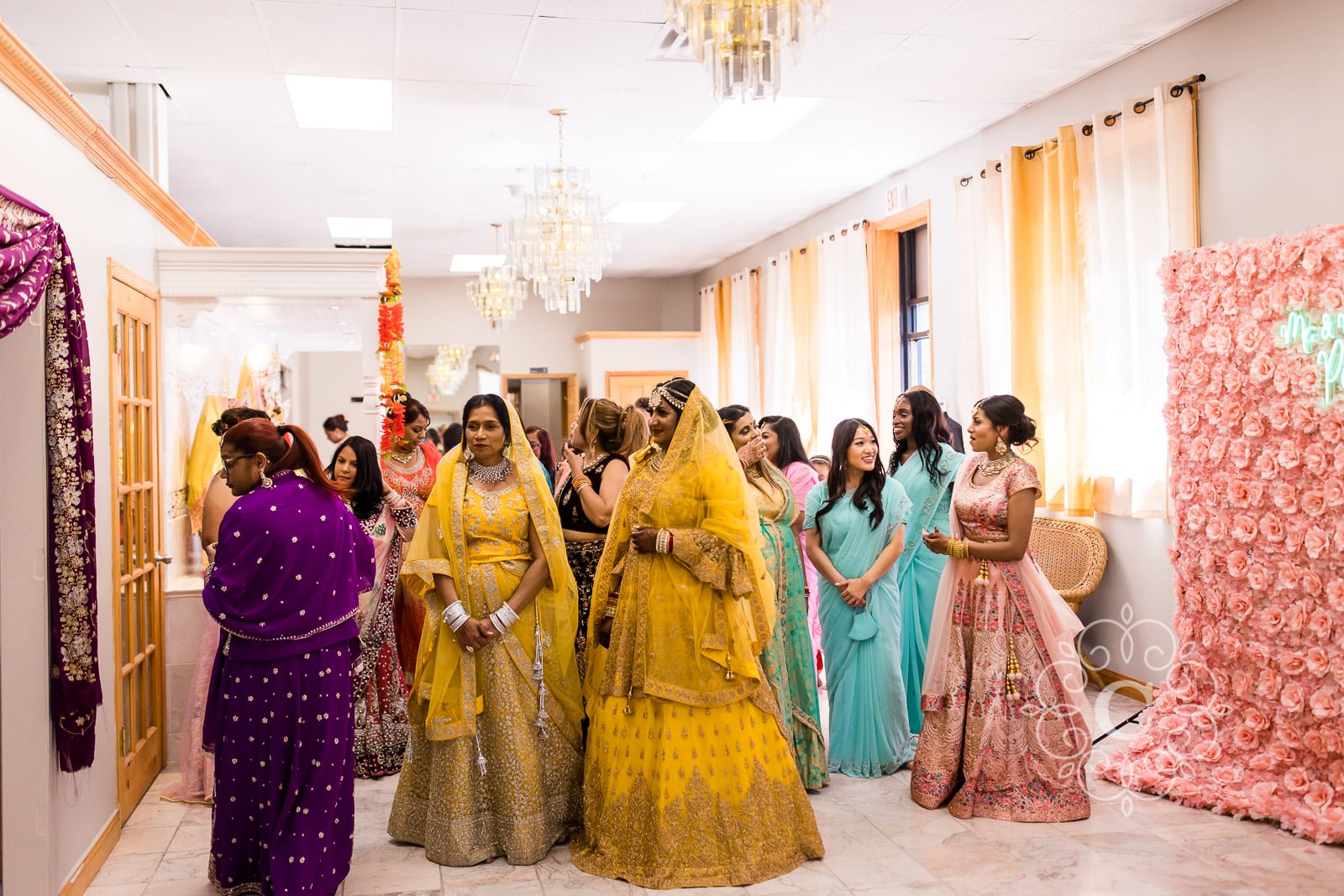 Be sure to take a peek at Vishana + Brian's slideshow for more photos too!

VENDORS
Venue: Vishnu Mandir
Wedding Dress: Annika Bridal
Bridesmaids Dresses: Azazie.com
Groom/Groomsmen Attire: Men's Wearhouse
Wedding Rings: Jared's
Officiant: Pandit Doobay
Florist: Profile Event Center
Catering: Vishnu Mandir
Cake: Profile Event Center
Musicians: DJ Leon D
Invitations: Minted
Videography: Videography of MN