Today I wanted to spend some more time highlighting my Premium wedding photo album line that I am so proud to be carrying – luxury albums from Graphistudio! Graphistudio is one of the longest-running and most prestigious wedding album manufacturers in the world, with their founding in 1982 in Italy. Even today, the albums are still made at their headquarters in Italy, and they have grown to open offices all over the world. Luckily, the US headquarters is right here in Minneapolis!
I'm going to highlight two albums for you to get a sense of the variety, customizability and craftsmanship of their albums. My previous blog post highlighted my high-end Signature wedding album line. Today's post highlights my Premium wedding album line – a more budget-friendly option than the Signature line.
First up with have Courtney + Blake's wedding photo album. The incorporated Design Box is created out of a white wood pulp with an amazing white-on-white texture. I custom-designed a beautiful circular border to mimic the greenery circle from Courtney + Blake's wedding ceremony. We printed the graphic with their names on the cover in rose gold foil (one of their wedding colors.) Inside the box we have a printed image of their wedding invitations and rings. The book itself features a crystal clear cover and dark blue leather spine and back (another of their wedding colors.) The album paper is a soft, luxurious deep matte with velvety finish. The box and album are finished off with a light gray satin ribbon.
Next we have Chantel + Quinn's beautiful wedding photo album. They wanted some sort of crest for their album box cover, so I customized this design ornament that is both elegant and regal, and also subtly features an 'A' which is the first letter of their married last names. The symbol has been printed in gold foil on the cover of the box which was created in an anthracite gray Maple material. Inside the box, we have featured a beautiful photo of Chantel + Quinn from their wedding day. Their album is covered in the same Maple material, but this time in white. And the cover design ornament has been converted into a gold foil border which surrounds Chantel + Quinn's names printed in black. The entire presentation has been topped off with a beautiful rich blue ribbon, similar to one of their wedding colors.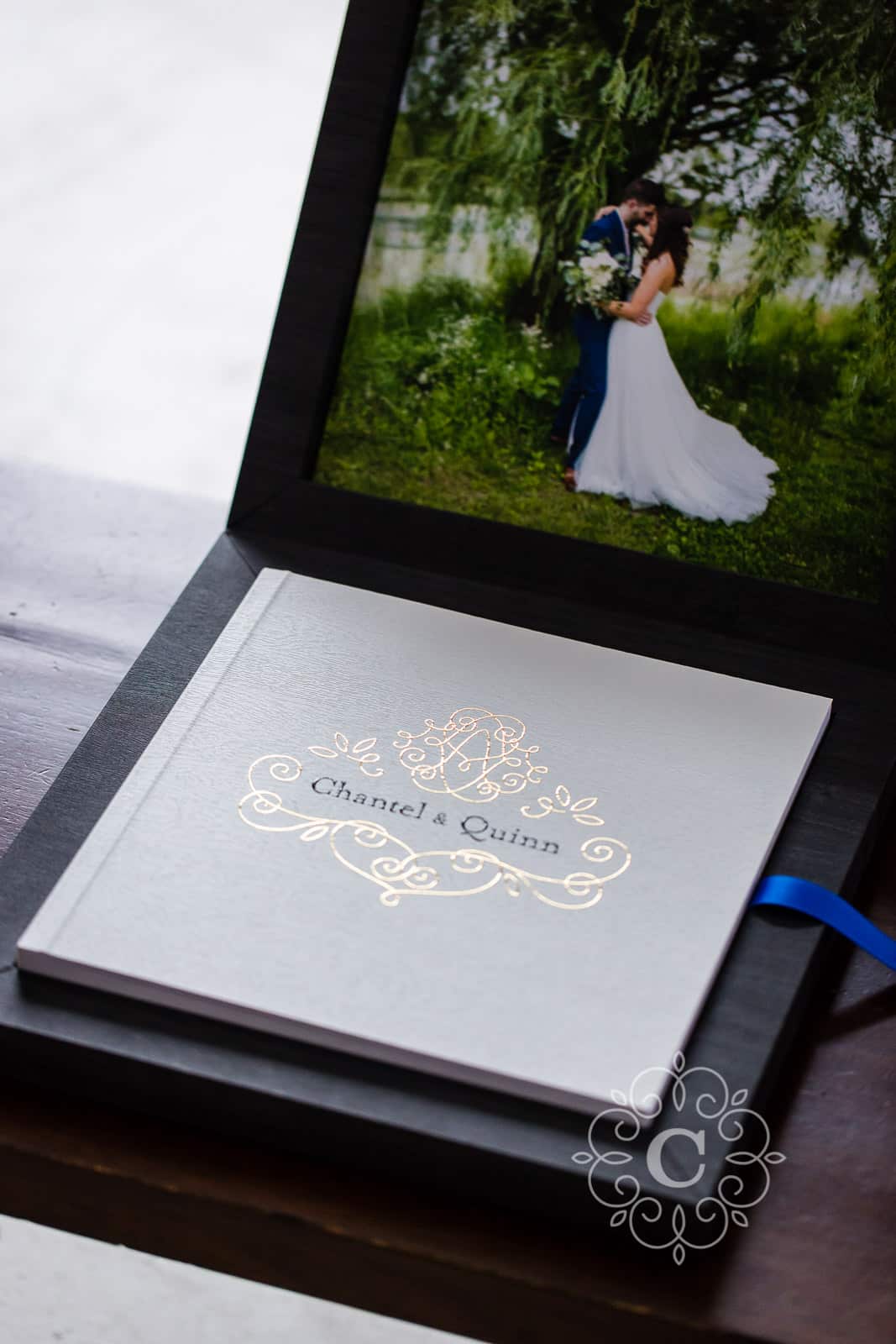 Here we have Susan + Robert's wedding photo album. All of my Graphistudio albums come with an incorporated, protective Design Box that keeps the album safe from damage, dust and light. This particular wedding's bride was of Indian heritage, so all of her bridesmaids were wearing gorgeous multi-colored saris that her father brought over directly from India. Also, the bride was wearing her traditional henna designs for her big day, as well as an exquisite Indian gown worn exclusively during the reception. The box's exterior features the white Touch material (a luxurious soft finish) with debossed ennoblement in a white Indian pattern, giving the piece a subtle, refined Indian texture. The box interior repeats the pattern ennoblement, as well as a sky blue satin ribbon. The blue color was coordinated with the gorgeous album cover – a beautiful photo of Susan + Robert from their day in the gorgeous landscape of the Mendakota Country Club's golf course pond. The cover was created in Graphi's newest option, the Crystal Glance cover, featuring a thick crystal clear sheet over a metallic photo, giving a bright, stunning presentation of the photo. The album is bound with a black traditional leather. The interior pages are a beautiful HD-printed photo paper with protective coating, giving remarkable color and detail to the images and ensuring decades of enjoyment by family and friends.
And finally, we have Alice + Chris' wedding photo album. This particular wedding featured a rustic venue at Kellerman's Event Center with lots of gray, blue and brown tones, so I felt the colored Maple material fit well for the Design Box exterior. The interior of the box features a photo of the bride and groom during the gorgeous fall day at Matoska Park in White Bear Lake with its old oak trees, bright fall color and peek of sunlight shining through. The box interior also featurs a bright yellow satin ribbon offsetting the bright fall colors. The cover of the album features a beautiful photo of Alice + Chris' rings set on a piece of raw cut wood, again highlighting the wood theme seen throughout their big day. The interior pages of the album are an uncoated watercolor paper, featuring a textured artistic surface and bright, rich tones of each image that will be enjoyed for decades to come.
Take a look at my other gorgeous heirloom artwork options too!
Signature Albums
Engagement Albums
Image Boxes
Wall Art
I've got these and other wedding photo albums to view as well, so please don't hesitate to call and coordinate a time to meet at my Minneapolis wedding photography studio so I can show you these amazing albums!