Toni + Chris love hanging out at beer breweries to try the latest concoctions, so it seemed a natural fit to work with them to create Bauhaus Brew Labs engagement photos. They particularly love the design of the Bauhaus Brew Labs that recently opened in NE Minneapolis, so they were excited to spend their session here. Bauhaus Brew Labs opened in the former Crown Iron Works building in NE Minneapolis, which produced iron equipment for the US during WWII. The brewery was named after the Bauhaus School which, from the brewery's website, "was among the world's most famous art and design schools. A crucible of modernism, the impact of the Bauhaus can still be felt today. The Bauhaus was inspiring not just because of the extraordinary group of brilliant, visionary people involved, but because it was fueled by a commitment to creativity and experimentation with the underlying tenet that work, play and celebration should be intertwined." Being a former design student, I was made very aware of the importance of the Bauhaus School, so it was an extra treat for me to be able to work at a brewery that was so inspired by modern design!
We were able to spend some time at Bauhaus sipping beer and hanging out in the amazing building as well as the exterior grounds of the patio. We were even able to sneak away for a quick run over to Boom Island to snap a few photos with the Minneapolis skyline in the background. It was such a gorgeous spring day and we had an amazing time!
Toni + Chris, I'm so happy for you both, and had so much for on your Bauhaus Brew Labs engagement photos. I am also so excited for your wedding next summer! Congratulations!
ETA: Take a look at Toni + Chris' beautiful Minneapolis Club wedding photos as well!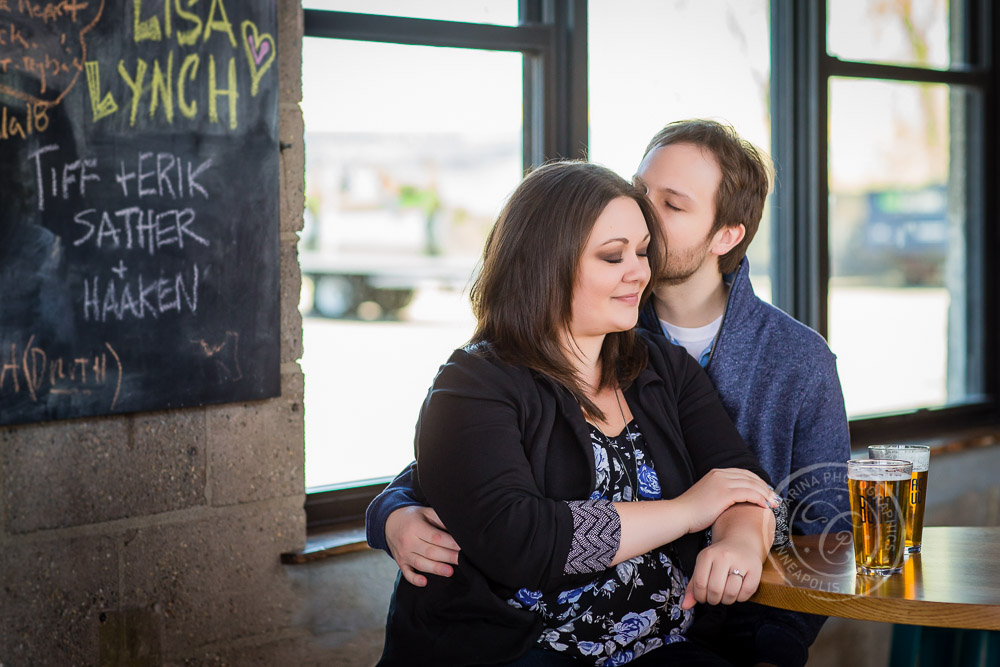 If you're planning for a Bauhaus Brew Labs engagement photography or prewedding photography session, contact me soon!