Landmark Center Wedding Photography
Katie + Brett had a bit of a challenge planning their wedding. While they both called the Minneapolis area home, they also recently moved away for jobs and school – not even together but in separate states! Luckily they weren't too far away, so we were still able to meet and decide to work together for their wedding photography, as well as have an amazing time during their engagement session at Como Park Conservatory last year. After a lot of driving and remote planning, their Landmark Center wedding day in January was finally here!
Beginning of the Day
We began their big day by getting ready at the Intercontinental Hotel on the St Paul riverfront. Such an amazing, modern, chic hotel! Once the two of them were ready to go, we headed over to the Landmark Center for Katie + Brett's first look. We were up on the fourth floor in the spectacular Chief Justice Room. Such an amazing moment, I was even tearing up too. Afterward, we had fun taking portraits of the two of them together throughout the Landmark Center's beautiful architecture.
Portraits and Ceremony
After Katie + Brett's portraits, we photographed their wedding party images and family portraits at the Landmark Center. We then headed up to St Stephen's Catholic Church in Anoka for their wedding ceremony – they were so joyful! After a few large group portraits following their ceremony, we headed back down to the Landmark Center for their reception.
Landmark Center Wedding Reception
The Landmark Center was sparkling and glowing for Katie + Brett's reception. They started with a cocktail hour, then followed with their grand entrance, dinner and toasts – so many laughs and tears! Finally, the dance floor was jumping with their DJ and dance party. Everyone had so much fun!
Thank You!
Katie + Brett, thank you so much for including me in your big day and your Landmark Center wedding photos. I am so honored to have worked with you, and I wish you the happiest life together!
Take a look at more of my Landmark Center wedding photos here too!
Want to talk about photography for your upcoming Landmark Center wedding? Contact me soon!
Update: Take a look at Katie + Brett's beautiful wedding photo album too!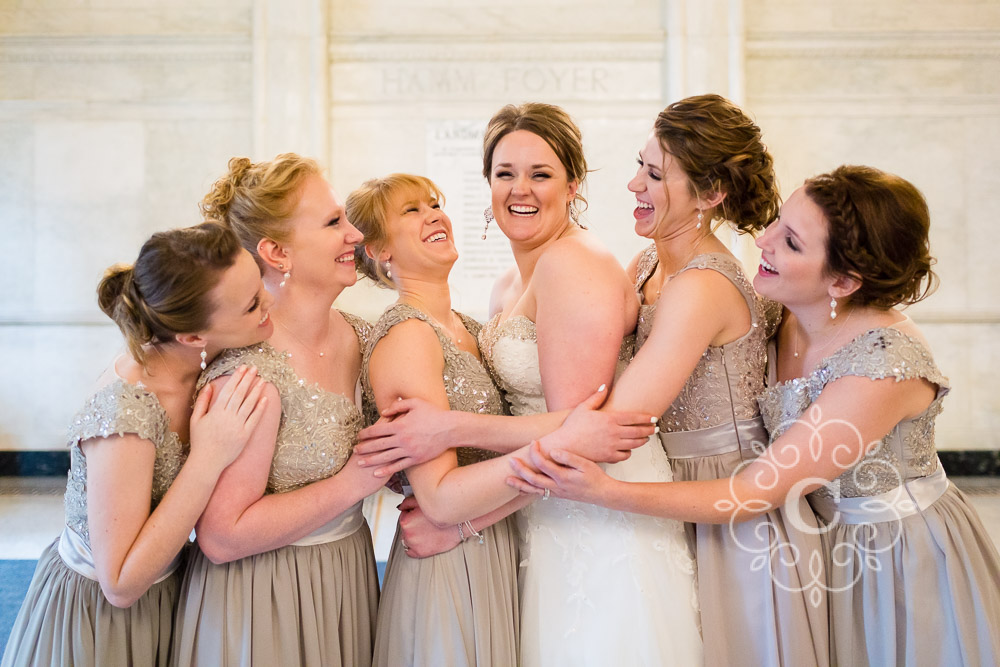 Check out their highlight video for more from their big day:
VENDORS
Wedding Prep: Intercontinental Hotel St Paul
Wedding Venue: St Stephen's Catholic Church
Reception Venue: Landmark Center
Wedding Dress: Jacquelin Exclusive
Hair/Makeup: Madolyn Ayers
Groom/Groomsmen Attire: Men's Wearhouse
Wedding Rings: Necker's Jewelers
Florist: Friend of Bride (Brooch/Bead Bouquets, Boutonnieres and Centerpieces)
Catering: Design Cuisine
Wedding Cake: Taste of Love
DJ: The Wedding Collective
Wedding Invitations: Noted Design